I dunno about you guys, but I always look at my birthday as a chance to push a hard reset on those New Years affirmations that might not have started out so hot. You know… the ones that sound good on December 31st but come January 10th you're all…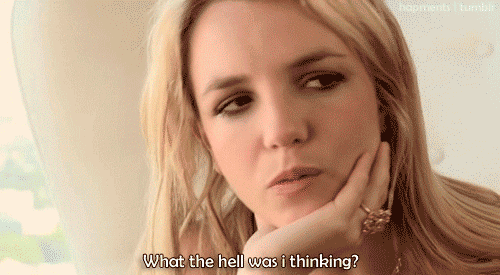 But deep down, you know that affirmation (or resolution) is good for you. So after some thought, you know you're ready to jump back on the bandwagon.
While not drinking alcohol (or cutting back) wasn't really anywhere near my list of affirmations for the new year, my life has drastically changed in the last couple of weeks. And with today being my birthday and all, I figured this would be the perfect time to add an alcohol-free intention to my life. If you follow me on Instagram, I posted a bit about what's been going on yesterday. I'll eventually blog about it in more detail but I'm just not quite ready for that yet.
Butttt long story short, I was checked into a psychiatric hospital last week… against my will… for my own safety. I got super depressed AF and super suicidal. My boyfriend wasn't going to work because he was afraid to leave me home alone. Something had to change. We both couldn't keep living like that.
So the hospital happened and while it wasn't quite the 5 star hotel or intensive inpatient therapy retreat that I've been used to… it was an uncomfortable necessity. My meds were switched from just an anti-depressant to an anti-psychotic with a mood stabilizer. Noticeable Difference. I attended like a 100 group therapy sessions where I was taught coping skills for my mental illnesses. Noticeable Difference. And lastly, it was really brought to my attention why I need to stop drinking (and smoking pot if we're being real… which we are! #ColoradoLife). Noticeable Difference.
Why the F Should I Go Alcohol-Free?
I don't have a drinking problem, I swear. And I knoooow that's what people with drinking problems say but I swear I don't. I usually only have a couple glasses of wine, and then get hungover for days. Because of that, I've always been picky about when I drink – depending on how much 'ish I have to get done. But I still drank several times a month.
If you do have a problem with drinking, that's okay. I mean, that's not okay but you can still participate in this challenge. However, if it's to a point where your life is being seriously affected, you may need more help than just this challenge. I truly encourage you to seek it.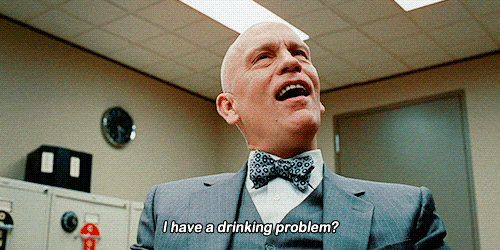 Whether or not you are suffering from a mental illness, an addiction, or a health issue, everyone can benefit from giving up alcohol – even if it is just for 28 days. And if you are already the epitome of health but really love your nightly glass(es) of wine – you my friend, will still benefit as well. With my new meds and my recent diagnosis of bipolar disorder, major depression, high anxiety, PTSD, and OCD I'm going to be nipping alcohol in the bud for much longer than just 28 days and I totally hope you join me! The way I designed this challenge, is to not only get you through the first 28 days, but to keep you on the right track after.
Benefits of Going Alcohol-Free
Improved sleep
Weight loss
Clearer skin
Mental clarity
Look younger
Improved overall health
Save money
Stop doing stupid shit you can't remember or are embarrassed about the next day
Increased energy
All 5 of your senses will reactivate
Reduce risk of chronic disease
Better and more stable moods
Better sex life
Enriched work performance
Easier to stick to other healthy habits
See ya later laziness
Never have to worry about driving drunk and/or how you'll make it home
No more awkward texting your ex (that could fall under #8 butttt I still kinda feel like this one deserves it's own number)
Yaasssss, sounds aaaamazing!
If all of those benefits sound good to you, then let's get this show on the road! Also, I just want to stress that you don't have to start this on your birthday like I am. You can literally start this challenge whenever you are ready to enjoy life the way you deserve to. Don't forget, if you're going to share your journey on social media make sure to use #28daysalcoholfree and tag me.
She's Not So Basic's 28 Day Alcohol-Free Challenge
So, I'm breaking this down week by week. Each week will have a difference focus. Because of that, I kind of encourage you to follow this somewhat in order, butttttt ya know, you do you. If you want to start with week 4 and go backwards, more power to ya. IMO, I think the first two weeks are especially beneficial to do in order and then maybe adjust the last 2 weeks to fit your lifestyle.
Also… I hiiiiighly encourage you to find an accountability buddy. My boyfriend is doing this challenge with me and it makes even just the idea of going out, so much less stressful. We have plans all weekend with another couple and I was so nervous about being able to stick to not drinking, especially on my birthday, but having my boyfriend do this with me makes it so much easier to manage.
Week 1: Change Your Home Environment
So you know how they say "home is where the heart is"? Well I think that's definitely true but to me, it's a little deeper than that. I feel like my home helps fuel my heart. When my home is a disaster, my life usually follows suit (or vice-versa). Because of that, for the first week of this challenge, I think it's really important to make our homes a place that can fuel our hearts and our minds.
Day 1: Show Up + Set Intentions + Know Your Why
Let's take today nice and easy. After all, I'm stoked that you showed up and I don't want to overwhelm you with too much. I know I said this week we'll be focusing on our homes, which we will… but first I want you to identify your 'why' for taking this challenge. Somewhere in the next month, you will be pushed and tested when it comes to picking up a drink and if you always know your 'why', it will be easier to abstain.
Today I want you to write a few sentences about why you are taking this challenge and any intentions you may want to set. I made a bunch of copies of my 'why' and I taped one to the fridge and one above my desk in my office. There's one next to my bed to read before I fall asleep and first thing in the morning when I wake. I have one in my car and my boyfriends car so that when we are heading out to meet up with friends I can quickly remind myself why I am not drinking when everyone else is. I put one in my purse and in my wallet too. You're going to want to drill your 'why' into your brain so figure out the best way to do that for you.
Day 2: Clean Out The Fridge (and alcohol)
Woooo you've made it through the the first 24 hours! In my opinion, those are usually the worst with any kind of challenge. Hopefully you are feeling okay today. If you have been a little more dependent on alcohol than you may have liked, there's a good change that you just straight up feel like shit today. That's okay. Power through. You've got this.
Today we are cleaning out our fridges and pantries. Like full on cleaning. Take everything out and get in all the cracks and corners. When you are putting everything away, get rid of anything unhealthy. And likeeee don't stress about the money if you just bought those 3 different kinds of cookies and I'm telling you to throw them away (or donate if you haven't opened them). You're going to be saving tons of money this month by not drinking.
Once your fridge is cleaned out… I want you to go to the store and stock up on healthy foods. You should be eating 3 meals a day with some healthy snacks in between. I am not a dietician but some of my favorite things to snack on include apples, bananas, carrots, broccoli, Noosa yogurts, and pretzels. Mike and I like to make chicken in the crockpot on Sunday nights. We shred it up and put it in the fridge for the week. It makes snacking and eating healthier meals super easy.
Don't use your 28 days of no drinking to make even more excuses for bad habits. Let's just nip em all in the bud while we're working on the drinking thing.
Day 3: Catch Up on Your Laundry
I'm almost willing to bet you're no where near caught up on your laundry. It's cool. I wasn't either. I had to do 3 loads just to catch up but man, it feels so good. Don't just wash everything and leave them in piles. I want you to clean AND put everything away.
As much as laundry is the worst, it'll keep you busy and away from drinks. Turn up the music and make it into a dance party if you have to!
Day 4: Bathroom Day
Guys I promise it gets way better after this week but having your home environment put together makes taking on this challenge so much easier. Not to mention, these first few days where you might be craving a drink, it's nice to have things to do that keep your hands and your mind busy. Like scrubbing toilets.
Take today to really clean the bathroom(s) in your home. Clean the mirrors, your toothbrush holder, your hair brush, etc… just really get it all.
Day 5: Clean Out Your Closet, Office and/or Junk Drawers
Something about cleaning out my closet and my desk is sooooo therapeutic but I don't really get to it as often as I would like to. Take today to de-clutter. Get rid of all that extra stuff that is unknowingly holding you down. Start with your clothes and then move onto other areas of your home. For me, my desk and my junk drawers definitely needed a good cleaning out.
Day 6: Think About What's At Eye Level + Adjust
This might sound kind of weird but just hear me out. If one of your New Years affirmations/resolutions was something about reading way more books this year but there's literally not one book in your eye-sight at home, there's a good chance you're not going to do a good job with that one. If there's something you really want, it's more likely to happen when you see it regularly. Isn't that part of the reason we make vision boards and manifest and whatnot?
If you want to read more instead of watching so much TV, maybe put some books on your TV stand. Now every time you sit down to watch TV, you're going to see the books you at one point wanted to read. It could encourage you to read more and watch less. Same goes for yoga. Want to do more yoga this year? Buy a yoga mat and book and leave it out, unrolled, in front of your couch. Next time instead of sitting on the couch twiddling your thumbs or thinking about going out for drinks with friends, you will most likely feel an urge to hope onto your mat.
Try to think about things you want to do instead of drinking and bring them to eye-level in your home.
Day 7: Spot Clean + Take Inventory
Yaaaaasssss you've almost made it through the first week! I hope you are starting to feel really comfy in your home. Today I want you to spot clean and take inventory of things you may be missing. For example, Mike and I didn't have a dinning room table for like 3 months which got kind of depressing. Things like that shouldn't be put on the back-burner because your home needs to be comfortable.
Maybe your walls are bare and you know adding some art will lift your mood which in turn will keep that fire burning inside you to not drink and stay on a healthy path. Take time to take inventory and make a list of things that will make your home even more of a home. Over the next few weeks, I want you to do your best to buy/make the things you may be missing.
Week 2: Adjust Your Social Life
Day 8: Make Early Plans
When you have something to do early in the morning, you are less likely to feel the need to go out and drink. Schedule a private yoga lesson first thing in the morning, try to go catch the sunrise somewhere, or make a morning coffee date with a friend you haven't seen in a while.
Day 9: Find New Ways To Celebrate
I don't know how or why celebrating and drinking go hand in hand but they totally do. Find new ways to celebrate things that you would normally raise a glass to. Yesterday for my boyfriends birthday we did dinner and a movie instead of dinner and drinks. Tonight for my birthday we are doing dinner and sledding/snow tubing with some friends.
Day 10: Have A Confident Response to Not Drinking
Own your reason for not drinking so that when someone does offer you a drink, you know exactly how to respond.
"No thanks, I have to wake up super early tomorrow."
"No thank you, I am taking some time off of drinking for personal health reason and it feels so great!"
Day 11: Start a Running List of Alcohol-Free Activities
Remember in the beginning of the challenge where I talked about taking inventory and making your home a home? Welll if you noticed that your walls are bare, this could be a fun one for you. Mike and I ordered this HUUUGEEE calendar to put on one of our walls and every week we set a time to update the calendar and make a list of free things to do. This also helps with the whole bare wall thing I was talking about on day 7.
Day 12: Find Your Signature Mocktail
There are some people out there who just really enjoy the chemistry of mixing drinks. And that's totally cool but you can still do that without the alcohol. Hop onto Pinterest and look up some fun mocktail recipes. Maybe invite a friend over and spend the night chatting and making a whole bunch of different mocktails.
Bonus… once you find a mocktail you love, that can be your signature drink whenever you are out with friends who are drinking.
Day 13: Look Forward To 'Me' Time
FOMO doesn't do anyone good. Unless it comes to signing up to my newsletter over on the sidebar —–> but other than that, get rid of the FOMO mentality.
Forget about FOMO and get excited for some 'me' time. A cozy night-in catching up on some TV shows or movies is worth skipping a night on the town for. Resting up at the weekend not only gives your wallet a rest, it also allows your mind and body time to recuperate after a tough week at work. Not to mention so called 'quality time' with friends, family or your other half that was way more mentally exhausting than you would have liked. You knoooowwww as well as I do that socializing can get tiring at times! Nothing wrong with a little 'me' time.
Day 14: Take A Friendship Inventory
I'm not saying to fire all of your friends… but I do have a feeling now that you're two weeks into being alcohol-free, you might have realized what friends should stay and which friends should go. The ones supporting you on this challenge should definitely stay. And the ones pushing you to drink or trying to get you to 'just take one night off' probably don't need to be in your life.
And like I said… it's not like you need to fire them but maybe just reevaluate the relationship. It's okay to grow apart and change your expectations of certain friends and you change, grow, and develop. It happens.
Week 3: Create New Healthy Habits to Replace the Drinking
Day 15: Start Journaling
Journaling is an amazing outlet to express your feelings. Sometimes when I sit down to journal, I think I have nothing on my mind but once I get those first few sentences out, I can't stop writing and then like 5 pages later, I've finally figured out what has been bothering me even though I wasn't totally sure something was wrong in the first place. If that even makes any sense! Also, you are creating a written history of yourself that your can look back on. Journaling is seriously just an amazing way to tap into those inner feelings that you didn't even know existed.
Most of us are really good at suppressing our feelings until they get too big and they explode. Or we drink instead of actually addressing them. From today on, I really want you to keep a daily journal. Even if you think you have nothing to say… just jot down a few things that happened during the day. Maybe a couple experiences and how they made you feel.
Journaling is a way to cope with our emotions. It helps us figure out and digest what got us all hot and bothered in the first place. As you write, your mind will unravel all on it's own. This can clear out any build up clutter in your mind or release some tensions and/or concerns. As these feelings begin to unload, you will gain valuable insight about yourself and your life. Journalling connects every day living to your inner self.
Day 16: Work Out Regularly
You neeeeeeed to find a exercise routine that works for you. Physical benefits aside, working out will help decrease your urges to drink. Once you get those endorphins flowing, you aren't going to want to drown them in booze. Also… if you regularly work out early in the morning, that gives you more early morning excuses to not drink.
Day 17: Take A Cooking Class
Taking a cooking class is fun because it gets you out of the house for a bit, you learn something new, and you meet new people. Talk about a triple whammy. But just be mindful that some cooking classes serve drinks while you cook so maybe inquire about that before signing up.
Day 18: Volunteer
Volunteering always makes me feel good. And when I feel good I don't want to put shitty things like alcohol in my body. Take some time today to figure out where you'd like to volunteer. Animal shelter, a school, maybe a thrift store? Make a list, do some research, and call some places. By the end of the day, I want you to have at least one place you know you can spend some time volunteering.
Day 19: Check Your Local Newspaper for Free Events
I looooove that my boyfriend reads the newspaper. Mostly because he keeps me informed on all the things butttt also because he always knows about really cool, free things happening around town!
I can't promise that where you live will have a ton of free events but it doesn't hurt to familiarize yourself with where you can find all the free happenings.
Also worth noting… my town has a newsletter that you can sign up to and every week they send a email talking about all the things going on and your town might too! Maybe reach out to city council or the chamber to find out.
Day 20: Plan a Day Trip or Staycation or Pretend to Be A Tourist in Your Own Town
A day trip will keep you nice and busy and alcohol free because of the whole you're not supposed to drink and drive thing.
Day 21: Go For a Daily Walk (even if it's cold and snowy!! Just bundle up!)
My yoga teacher was who got me into walking. Although walking is great for exercise, I actually use it for grounding. Some days I just feel like I'm floating through life. When those feelings creep in, I get outside and start walking. I don't stop until I feel grounded with the earth beneath my feet.
Week 4: Find Better Ways To Manage Stress
This week we are trying out new coping skills. You might find you absolutely love some of them and hate the others but you really never know until you try. Giving these coping skill a go while you are still alcohol-free will hopefully prepare you with healthier ways to cope if you do introduce alcohol back into your life.
Day 22: Color
I am obsessseeedddddd with coloring and I was basically the most popular girl in the mental hospital last week because my boyfriend buys me really silly coloring books. Coloring is an awesome way to keep your hands and your mind busy. And you don't even need any artistic skills when coloring in a coloring book. Here are a few of my favorite coloring book at the moment and these markers are absolutely aaaamazing!
EMOJI: A COLORING BOOK WITH 50+ FUN, EASY, AND HILARIOUS COLORING PAGES (PERFECT GIFT FOR EMOJI LOVERS)
MAKE LIFE YOUR BITCH: MOTIVATIONAL ADULT COLORING BOOK. TURN YOUR STRESS INTO SUCCESS! (MIDNIGHT EDITION)
A SWEAR WORD COLORING BOOK FOR ADULTS: EAT A BAG OF D*CKS: EGGPLANT EMOJI EDITION: AN IRREVERENT & HILARIOUS ANTISTRESS SWEARY ADULT COLOURING GIFT … MINDFUL MEDITATION & ART COLOR THERAPY)
PRISMACOLOR PREMIER DOUBLE ENDED ART MARKERS, BRUSH TIP AND FINE TIP, SET OF 24 ASSORTED COLORS WITH CARRYING CASE (1776353) BY PRISMACOLOR
Day 23: Breathing Exercises
There are a bunch of different ways to breath so you need to figure out what works best for you. My personal favorite is square breathing because you really need to focus on your breath. It's really easy to do. Pick an inhale, exhale number that works for you. If you aren't sure, start 3 with and you can increase from there. So you are going to inhale for 3 seconds, hold your breath for 3 seconds, exhale for 3 seconds, and hold again for 3 seconds before starting the square all over.
If you are just into straight up deep breathing, remember it's beneficial to exhale a little long than your inhale. So Maybe inhale for 5 and exhale for 7. Questions? Shoot me an email and I'd be more than happy to help you figure your breathing out!
Day 24: Pinterest DIY's
I don't think I've ever successfully completely a Pinterest DIY project but I definitely always have fun trying. If you're someone who gets easily frustrated, you need to leave your expectations at the door with this one but once you learn how to do that, I bet you'll have a lot of fun! There are tons of dollar store DIY that can cost you less than $10 to make!
Day 25: Meditate and/or Pray
I have a super fun post on this coming up within the next couple weeks! I had the pleasure of meeting and chatting with Marianne Williamson a few months ago and she really opened my eyes to meditating and praying. You don't need insane concentration to meditate and praying doesn't have to have anything to do with religion if you don't want it to. I really encourage you to do some reading and researching to find a style of meditation and prayer that works for you and check back within the next few weeks for a more in depth meditation post.
Day 26: Have a Self Care Day
Becausseeeeee why the heck not?! It feels good and it's sosososo good for your mind, your body, and your spirit. Not to mention, it keeps your mind off the alcohols! Check out this post on how to have the ultimate at home self care day!
Day 27: Progressive Muscle Relaxation
So this is basically the practice of sequentially tensing and relaxing certain muscles in the large skeletal muscle group. This exercise will help you to lower your overall tension and stress levels, and help you relax when you are feeling anxious. It can also help reduce physical problems such as stomachaches and headaches, as well as improve your sleep. But you have to remember to breath while you do this!
I like to tense the muscle group, breath a few slow deep breaths and on the last exhale, I release the muscle tension. Try doing your shoulders, biceps, triceps, fists, quads, gluts, and calves! The whole practice will take you less than 10 minutes and leave you feeling aaaaamazing!
Day 28: Play Some Music and Move Your Body
Playing upbeat music can really increase your mood and turn your whole day around. If you find yourself feeling ready to pop open that evening bottle of wine, turn up some fun music instead and move your body. Listening to music has been shown to improve memory functioning, increase rate of healing, improve your workouts, reduce stress, and ease anxiety. And dancing is an amazing way to move any energy that may be stuck in your body. Check out some of my favorite fun songs to instantly boost your mood.
Looking for some more healthy habits? Try a Daily Mantra Wall!
Grab my favorite affirmations to help you get started.