I've gotta be honest, sometimes when I sit down to write my blog posts I spend like at least 20 minutes just figuring out the first few words to start the damn thing. Like… at first I want to say 'Hey guys!' and then get into my post but Google Analytics tells me that most of my readers are female sooo starting off with 'hey guys' just doesn't feel right. And then there's the more obvious 'Hey ladies' or 'Hi babes!'. But the problem here is that I'm really neither a ladies nor a babes kind of girl so those don't feel right either.
Here's the one that really gets me. Without fail, at some point I almost always want to start off my post with 'Hey ya'll'. Hey ya'll. Don't get me wrong. Hey ya'll is a totally fine greeting but likeeee I was born in NY, grew up in south FL, and I'm pretty sure I haven't spent any time around anyone with a 'hey ya'll' kinda accent. It's just like literally the most unnatural thing I could possibly ever say.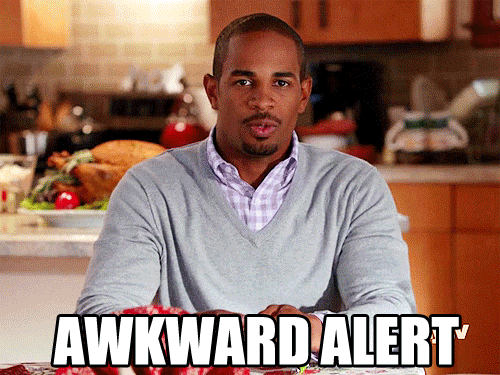 My boyfriend Mike laughs at me a lot because I'm really awkward IRL. Like I know a lot of people say they're awkward but I'm like painfully awkward. Here's a quick example:
We were at the dog park last week and Myla tried to eat this Husky that was like double her size. She finally calmed down and I quickly apologized to the Husky's owner for my dog's very rude behavior. He said something funny back to me about how his Husky has too much fur to even feel Myla's bites. I smiled at him, looked down at my shoes, looked back up at him, down at my shoes again, paused for a few seconds, turned around, and power walked across the park to Mike. Like… not one word said back to the man and not even a calm but brisk walk away. Or even a full on jog. Just a straight up – head down, arms in full swing power walk of determination. These kinds of encounters happen more often than I should probably admit.
Related: How To Boost Your Confidence While Running Errands
TBH I kinda have no point to this story. I was just laughing at myself because I literally just spent so long flip flopping back and forth trying to figure out how to start this post when all I want to do is share some cute plaid shirts with ya'll. You guys. Ladies. DAMMIT! Like, is this normal? Do other people have long internal struggles about these things?! So anywayssss, now that I've got that under control and found a really long winded way to start the post, let's get on to plaid shirts!
12 Plaid Shirts to Have On Your Radar
It's no secret that plaid shirts are always fall and winter staples, especially if you live in cooler climates! I know there's obviously no real logical reason to own 12 plaid shirts at a time but likeeee if I was gonna, it would totally be these 12 plaid shirts right here – just sayin! Do you have a plaid shirt on your radar this fall? Tell me in the comments below!
---
I'm Michelle, the founder of life & style blog, She's Not So Basic. On the blog I write about all things related to style advice, self-love, finding happiness, and so much more while wearing both my heart and my scars on my sleeve. My path through life has been anything but basic and it's left me feeling lost, lonely, and insecure. Every day is a journey towards feeling confident and finding freedom one not-so-basic outfit at a time. Connect with me to see how we can work together, to tell me your #NotSoBasic story, or just to say hi!