Disclaimer* I've been only doing these for like 4 days but boy do I feel a hell of a lot better!
Truth: I've been riding the struggle bus for a while now and I haven't been totally sure how to write about it. Up until about a year ago, I've spent my life in fight or flight mode. I thought I finally escaped my past when I moved across the country last summer. Unfortunately, the truth is that my past is more with me now and heavier than ever before.
Fashion and Styling Have Been My Way of Coping
Fashion and styling have helped me find strength and feel confident on the outside, even if what I was feeling on the inside was a total 180. I truly believe my clothes have been the armor that protected me and kept me strong enough to get this far in my life. At the same time, I also feel like they've been a bandaid covering up the painful experiences I've been through.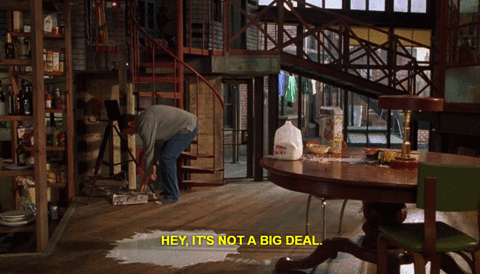 Because I was always in fight or flight mode, I never actually took the time to understand what I was going through or feeling. A frustrating thing about life is that doesn't stop for you to catch your breath. Even though you feel kicked down, the earth keeps on spinning so you've gotta keep on moving. Most of the time, dealing with what is going on deep down in our hearts and brains is a lot harder than slapping on a bandaid to make it through the day.
[RELATED] How to Boost your Confidence While Running Errands
The issue with bandaids and armor is that they eventually have to come off and we are just left with our own skin. I don't think there is anything wrong with finding quick ways to cope. However, at some point down the road, it's really important to zero in and face it all.
So that's what I'm doing. I'm facing it all and it sucks. It really really sucks. But for the first time in a long time I feel a little bit of hope for living a genuinely happy life.
Getting Out of the Slump
This is probably so lame and cliche but it's working for me so just go with it. I picture my life as a mountain and right now I'm at the base of it. I need to get to the top but looking up at the entire mountain is so overwhelming. In my mind, there is no possible way I can get to the top. I'm just not strong enough. But if I look at the mountain in smaller increments, it becomes more manageable.
Same goes with my life IRL. If I try to tackle it all at once I become overwhelmed, my head gets so cloudy, and I don't get out of bed for days. Instead, I am trying to make small and manageable changes that won't overwhelm me and will have a healthy impact on my life.
Three Daily Habits for Happiness
1. Make Time to Read First Thing in the Morning
Lately one of my biggest problems is that I don't want to get out of bed. I'm not talking about being tired in the morning and not wanting to get up. I'm talking literally no motivation for life, I don't want to face the world today – not wanting to get out of bed.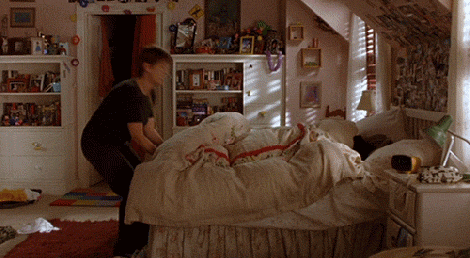 Action Step: Find a fiction book that takes you out of your world. It can be something so different from the life you've lived or maybe even a resemblance of the life you want. Wake up 30 min earlier every day, get out of bed, and read that book first thing in the morning.
I've been struggling to get out of bed because I don't want to face my own life. Immersing myself into someone else's life first thing in the morning kind of helps take the edge off. I've also found that those 30 minutes of reading really helps change my energy and resets the tone of my day.
2. Get Outside
And now you're all like 'duuhhh Michelle'. But seriously, even though I've always KNOWN how good it is to get outside, it doesn't mean I actually did it. Part of making positive changes is just about being more conscious to the obvious things around us.
There are a bagillion studies that show why getting outside is so great for our mental health. They say being outside can reduce stress and increase happiness which I totally agree with. Being outside makes me feel calm but it also gives me some perspective. There's a whole big world out there with so many moving parts and pieces. While I know my problems are real and important, getting outside reminds me that I am not the only person in this world and I am not the only one struggling.
Also, getting outside heightens our senses which helps us get in touch with how we are really feeling or any past experiences that we may have subconsciously blocked out. I did not realize how important our senses are until I started this healing journey. SEE the nature, FEEL the sun, HEAR the birds, SMELL the flowers but please don't TASTE things unless you actually know what you're putting in your mouth. But really focus on these things as you are doing them. Think about how it's making you feel inside and try to stay with whatever memories or emotions come up. Doing this will wake up your senses and get you more in tune with your feelings.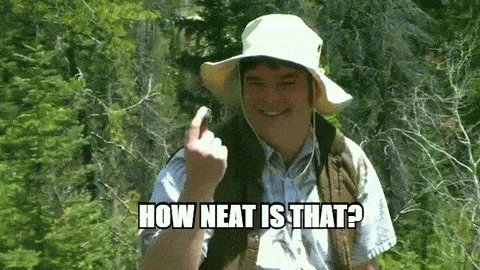 Action Step: Set a daily goal for time spent outside each day. It doesn't have to be long either… but the longer the better! I like to break up my day with a few 5-10 minute outdoor breaks. Think of it as a cigarette break but nature is your cigarette.
*Also if you can't get into nature, that's okay. Just being outside in general will do wonders. 
[RELATED] 5 Affordable Outdoor Date Ideas and What to Wear
3. Make a Daily Mantra Wall
Gross, I know (jk ). TBH I've just never been a spiritual, mantra chanting, yoga doing kind of girl. But I've also never really tried any of it so who am I to knock it, you know? Truth is, I'm tired of swimming against the tide so I've decided to float down the mantra-chanting river instead. Kind of. 
I cannot stand in front of a mirror and tell myself how great I am. Or that I can conquer the day. Or that my farts smell like birthday cake. I'm just not that girl – not yet anyway. My goal is to get there one day but I'm just not there at this point in time.
Growing up, my parents weren't always around. My mom was always in and out of rehab and my dad was in and out of jail or didn't come home from his office until after we were sleeping because he was super busy cooking up some new scheme to 'make us rich'. As a result of it all I haven't had contact with my mom for 5 years and I haven't spoken to my dad for over a year.
[RELATED] Unexpected Mother's Day Post
When my mom was home and sober she would tell me she loved me but other than that I didn't get much emotional praise or love growing up. Mostly, they'd just ask when I was going to go on a diet. I kept the family together as best I could and raised my sisters the best I knew how but now that I've made it out of the darkness, my self worth has disappeared. I'm determined to find it again and I'm using daily mantras to do so. Even though I don't truly believe them now, I am going to stick with it. I have a feeling that in time my words will feel true.
Action Step: Pick up post it notes and markers (the more bright and colorful, the better IMO). Choose a wall or mirror that you walk past every single day to become your Mantra Wall. Every morning (I like to do it after I read) write down a mantra and stick it on the mirror/wall. Read it a few times and then go on with your day. Every time you pass the wall, make sure to take 30 seconds to read some of the notes.
Download my List of Daily Affirmations to Help get you Started
Do you have any daily habits for happiness? Let me know in the comments below!
I'm Michelle, the founder of life & style blog, She's Not So Basic. On the blog I write about all things related to style advice, self-love, finding happiness, and so much more while wearing both my heart and my scars on my sleeve. My path through life has been anything but basic and it's left me feeling lost, lonely, and insecure. Every day is a journey towards feeling confident and finding freedom one not-so-basic outfit at a time. Connect with me to see how we can work together, to tell me your #NotSoBasic story, or just to say hi!