TBH, I feel SO awkward right now
Awkward like you know when you aren't 100% sure if your dress is stuck in your underwear as you're leaving the bathroom? No? That doesn't happen to you? Oh okay, well moving on. I feel awkward because I almost always write with purpose. But this week I just can't find anything purposeful to write about. I mean, I have a running list of really super awesome purposeful blog post topics. I just can't seem to find the words to write the posts. For some reason, not having a true purpose to this post makes me feel half naked, exposed, and vulnerable.
As predicted in last weeks How To Master Bicycle Chic post, I'm totally passing on my editorial calendar and flying by the seat of my pants. (BTW I just spent 15 minutes googling that phrase. It still makes no sense to me!). The week before last weeks post I dropped some huge truth bombs about me, my life, and my mental illnesses. Basically, I'm not okay… but it's okay. I'm working on myself – HARD. But honestly, it's so exhausting.
I had a post about slip on sneakers on my editorial calendar for this past Thursday. The thing is, I had a really hard session with my therapist on Tuesday which has basically rendered me useless ever since. She says that I need to take time to mourn the loss of my parents and the family I once knew. On top of me needing to actually do it in order to move forward, I need to understand that it's okay to do it. But like, it's really confusing to mourn people who are still alive. It doesn't seem real and it makes me feel crazy and uncomfortable.
It definitely feels like my dress is stuck in my underwear.
Every week, my therapist gives me actionable assignments to work on. This week, in an attempt to make all of my losses feel more real, she asked me to write a eulogy for my parents and the life I don't have anymore.
That day (pre therapy) I had intentions to spend the rest of the day working on my slip on sneaker post. I should have known better. Post therapy, I didn't have it in me to write anything. For some reason, 800 words on slip on sneakers seemed so silly and impossible when I was just asked to write a eulogy to my parents – who I have not seen in years and are both very much alive. (Actually, I'm like 98% sure they're alive). Honestly, I just wanted to zone out and not think about anything for days. Which I totally did.
Trusting Your Body, Your Heart, and Your Mind
For the past couple months, a lot of my therapy assignments have been about getting out of the house, trying new things, and attempting to recover memories. Buttt every week we came up short. At a certain point my therapist said we had to respect my brain and leave the memories be. This prompted me to get rid of all my clothes. Partly for a fresh start, partly to remove the dark shadows of my past that I carried through those clothes.
Anyway, now that we're done attempting to recover my memories and moving into mourning, she says it's okay to just be. Something I have NEVER been okay with. It's okay to have days in a row where I can't leave the couch and I have to wear my boyfriends deodorant because I'm so smelly that the women's clinical strength just isn't cutting it anymore and showering is obviously out of the question. Well, she didn't say the whole deodorant/showering part but I know that's what she meant. 
I guess my whole point in this long winded, semi depressing story is to do your best to trust yourself. If your body and mind needs a break, give it the break. Obviously don't skip work for two weeks and tell your boss the girl from She's Not So Basic told you to veg out and listen to your heart and your heart says it wants to Netflix binge. No, that's totally not what I meant.
I'm just saying to not be so hard on yourself.
If you're having a hard time meeting deadlines or functioning IRL because your boyfriend just broke up with you, you're just too sad to function, your cat just ran away, your best friend just landed the dream job you've been waiting for, the pizza delivery man didn't lay your pizza flat in his back seat and now all of the cheese slid to one side of the pie, or EVEN IF your brain is just tired and needs a break… whatever your problem is, IT"S OKAY! It's okay to veg out and get lost in something else for a bit. Just make sure you are honest with yourself, aware of your feelings, and set small achievable goals to keep up with so that you don't fall down a deep deep rabbit hole of sadness.
15 TV Shows to Distract You When You're Sad
Since therapy on Tuesday I've kind of checked out and drowned myself in TV. Bless my boyfriend's heart for his love, patience, and persistent need to feed & water me/keep me alive. Up until yesterday, I've pretty much been a big sad pile of Michelle mush on the couch. (Buuuttttt I totally got out of the house for a bit to take some pictures for an upcoming sponsored post! #Winning)
I still have not written those eulogies. Instead I've been distracting myself with TV shows to keep my mind busy. By no means am I saying to avoid your problems and fill your life with TV. However, if you need a temporary distraction or a mind reset, these 15 TV shows will definitely do the trick!
IMO, action and/or drama are the best distraction shows because they usually have so many moving parts to keep your mind going. While I am OBSESSED with funny shows like The Mindy Project and Parks and Recreation, they are not in depth enough to totally captivate me when I need a distraction. These 15 shows keep my mind busy from start to finish.
*FYI – I got scared in Scary Movie 3 which is apparently a comedy and then had to sleep with my lights on for a week but none of these TV shows scare me so if you're a TV weenie too, you'll totally be fine with these!
1. House of Cards
A Congressman works with his equally conniving wife to exact revenge on the people who betrayed him.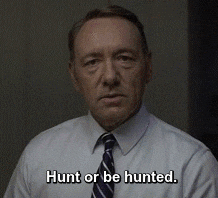 2. Madam Secretary
A political drama which looks into the life of the Secretary of State as she tries to balance work with family.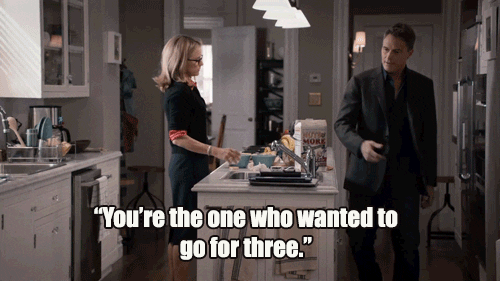 3. Quantico
A look at the lives of young FBI recruits training at the Quantico base in Virginia when one of them is suspected of being a sleeper terrorist.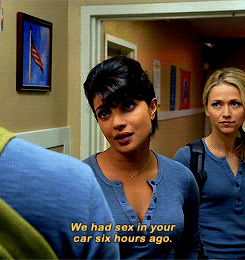 4. Blind Spot
Jane Doe is found in Times Square with no memory and mysterious tattoos on her body.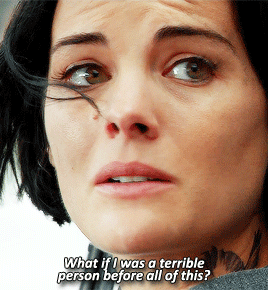 5. Burn Notice
A spy recently disavowed by the U.S. government uses his special ops training to help others in trouble.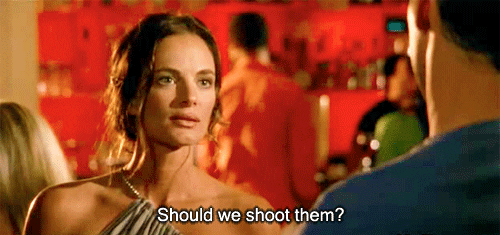 6. Shameless
An alcoholic man lives in a perpetual stupor while his six children with whom he lives cope as best they can.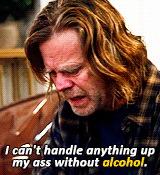 7. Sherlock
A modern update finds the famous sleuth and his doctor partner solving crime in 21st century London.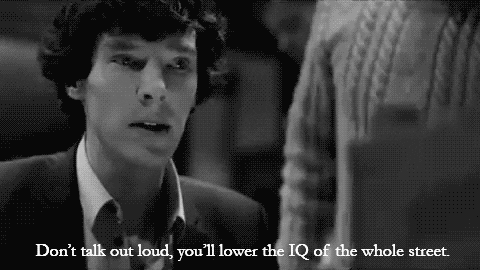 8. Homeland
A bipolar CIA operative becomes convinced a prisoner of war has been turned by al-Qaeda and is planning to carry out a terrorist attack on American soil.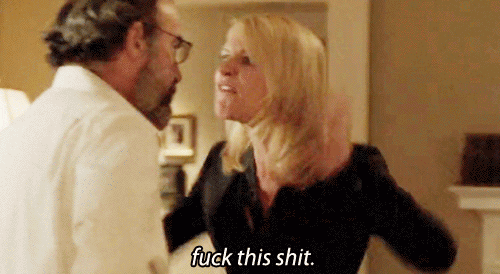 9. The Sopranos
New Jersey mob boss, Tony Soprano, deals with personal and professional issues in his home and business life, which affects his mental state and ends up seeking professional psychiatric counseling.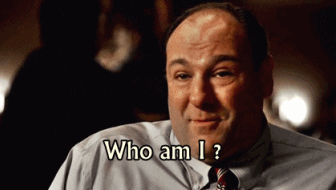 10. Dexter
By day, mild-mannered Dexter is a blood-splatter analyst for the Miami police. But at night, he is a serial killer who only targets other murderers.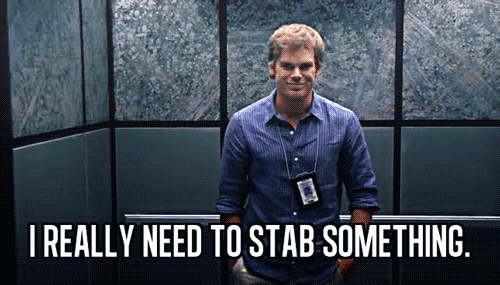 11. Billions
U.S. Attorney Chuck Rhoades goes after hedge fund king, Bobby "Axe" Axelrod in a battle between two powerful New York figures.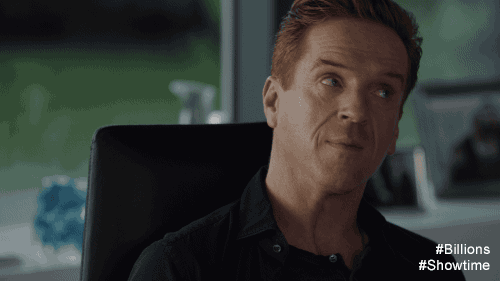 12. Weeds
When a suburban mother turns to dealing marijuana in order to maintain her privileged lifestyle after her husband dies, she finds out just how addicted her entire neighborhood already is.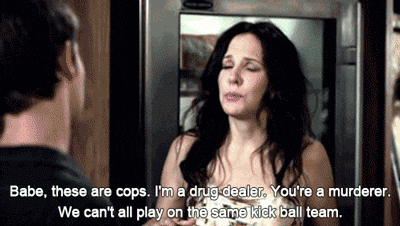 13. Bloodline
A family of adult siblings find that their past secrets and scars are revealed when their black sheep of a brother returns home.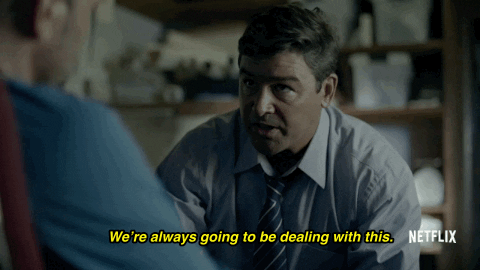 14. Scandal
A former White House Communications Director starts her own crisis management firm only to realize her clients are not the only ones with secrets.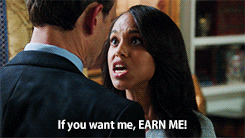 15. The Catch
Follows a female private investigator whose career specialty is exposing fraud for a living.
---
While drowning ourselves in TV is an okay temporary fix, daily mantras are great for the long run!
Have you started a Daily Mantra Wall Yet?
Download my list of affirmations to help you get started!
What TV shows do you like to watch when you need a distraction? Let me know in the comments below!
I'm Michelle, the founder of life & style blog, She's Not So Basic. On the blog I write about all things related to style advice, self-love, finding happiness, and so much more while wearing both my heart and my scars on my sleeve. My path through life has been anything but basic and it's left me feeling lost, lonely, and insecure. Every day is a journey towards feeling confident and finding freedom one not-so-basic outfit at a time. Connect with me to see how we can work together, to tell me your #NotSoBasic story, or just to say hi!